Smart TV leaders TCL, Hisense, Konka etc. gathered at Beijng 798 Art District to join "IGRS Omni Enjoy, Share your Joy—Smart TV Innovative Application Appreciation" on October 18. Wang Zhihao, Vice President of Hisense Group, Yi Haibo, Deputy General Manager of Konka Global multi-media R&D Center, Hu Shenggang, Business Planning Director of TCL Multi-media Business Division attended the meeting and made speeches. Smart TV leaders gathered here on the occasion that manufacturers just launched their smart TV and tried to have an early lead in the market. Therefore, "multi-screen interaction" function based on "multi-screen interaction" technology became the selling points of new products. The cross-media interaction had been the standard function for smart TV.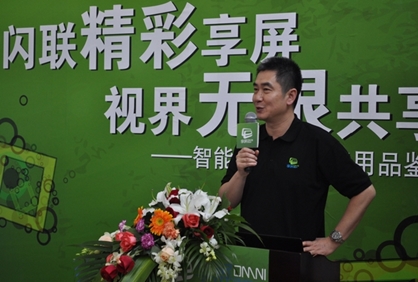 Mr. Sun made a speech at the meeting

"Multi-screen" is a key application based on IGRS Standard and the "multi-screen interaction" upgrades the smart TV industry and brings more humanized operating experience to the consumer. The exclusive IGRS Standard bundles mobile phone, tablet PC and TV together. Lying on the sofa or bed and using mobile and tablet PC as wireless mouse and keyboard to control the TV menu, browsing website through mobile phone keyboard, you can write down your life, emotion by mobile phone or tablet PC and quickly share it on the TV with your friends. TCL, Hisense and Konka, the core members of IGRS Alliance and other TV leaders use IGRS multi-screen function to realize multi-screen interaction. The cross-screen interaction function is a brand new application of multi-screen technology in TV industry, which is a standard application that can lead industrial reform. With the development of such technology and increase of the consumer, multi-screen will be applied to various fields, which function is upgraded and improved to provide the consumer with more convenient and effective experience.